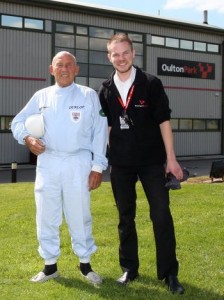 Hello, welcome to the new look richardrandle.co.uk! This website is a showcase of the photographic and written work of Richard Randle.
I am a PR professional currently employed at MotorSport Vision, based at Brands Hatch. Most recently my role has seen me become the Media & PR Officer for the ground breaking BRDC Formula 4 Championship, with full responsibility of written coverage on the class leading website, as well as full weekend updates from practice, qualifying and races.
Since joining MSV in early 2010, I have been fortunate to speak to several motorsport personalities, notably Jenson Button, Alessandro Zanardi, Sir Stirling Moss, John Surtees, Matt Neal and David Coulthard. However my personal career highlight so far is speaking to the rock legend Brian Johnson, lead singer of AC/DC. It was a pleasure to meet with Brian again in May 2013 at the Masters Historic Festival.
I've also had the pleasure of speaking with Olympic legend Sir Chris Hoy just a few weeks before embarking upon his motorsport career, while I also had the opportunity to speak with David Stone MBE before the Paralympic Games at Brands Hatch.
Since joining MSV I have travelled around the country reporting and photographing events for the company, as well as travelling around Europe on occasion supporting the FIA Formula Two Championship.
Aside from motorsport I am also heavily involved with Redditch Hockey Club, acting as reporter, photographer and even playing, well, trying to anyway!
On this website I will be posting my latest written and photographic highlights as I travel around the country with my camera, notepad and dictaphone looking to dig out the latest news.
In the meantime check out my Twitter feed or Facebook page for the latest updates!