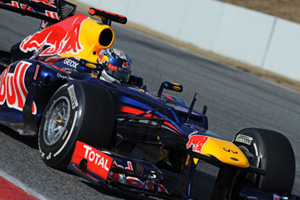 The crescendo of screaming Formula One V8 engines has finally ceased in Spain, and with that signals the end of the F1 pre-season. The pre-season is invariably as intriguing as the actual season itself, as the 12 teams take their turn in the spotlight, launching new cars, showing sparks of ingenuity and telling the assembled masses that their new car is their best yet, and will see them win the championship/move further up the grid/score points at last (delete as applicable).
The 2012 pre-season has proven to be one of the most difficult to break down into meaningful information. Red Bull appear to have another fast car (but have only figured at the top of the timesheets sparingly), McLaren look to be right up there, Ferrari seem to be struggling while Lotus (neé Renault) and Mercedes look to have made significant steps forward. But then factor in the rapid pace shown by Force India, Toro Rosso and Sauber (all three teams having run near the front throughout testing) and how does it all fall into place? We all know that testing times can't be taken seriously with the vast mixture of strategies, fuel loads, tyre selection seen and no-one really knows the true pecking order, but with the end of winter testing, I have concluded the following five predictions:
1.The championship will go down to the final round
Sebastian Vettel will for most, start as favourite for the 2012 F1 crown, but I for one see this year being much tougher than 2011. Red Bull, while being fast haven't shown their true form, but have also had reliability issues to contend with. McLaren look to be there or thereabouts on pace and have run with very little in the way of technical trauma, while Mercedes and Lotus could also spring a surprise. In short this could mean that there are several runners in with a shot of victory come Melbourne. It could also mean that if woes were to be befall Vettel in any race, the number of drivers in a position to take advantage could be significantly greater than seen in 2011, when in fairness, Vettel had very little to worry about, especially compared to 2010. All of that could result in a championship far closer than 2011, and one that could well go the full distance.
2. Michael Schumacher will finally win another race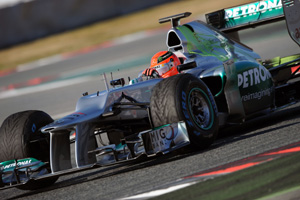 This year's new Mercedes W03 seems to be a much-improved machine compared to its predecessors. One of the later cars to have been launched, the model benefits from a few extra weeks' development time and crucially appears to have enough speed to concern McLaren and Red Bull. One lap pace is rumoured to be good, and race simulations have shown good results, and even if the team have played down expectations, I believe that the car will be enough to secure Michael Schumacher's first win since 2006.
3. Williams will return to competitiveness
I'm not saying that Williams will become world-beaters again, but I feel that 2011 will prove a blot on the copybook of this great team's record. Pastor Maldonado deserves more credit for his performances last year, and out-qualified Rubens Barrichello more often than not, while Bruno Senna has shown flashes of speed, particularly with Renault last year that shows he is worthy of a place in F1. The new car looks OK, and has come a long way since making its track debut and showed good pace in Barcelona. This should be enough to elevate the team into the ferocious midfield battle once more.
4. Caterham will get their first F1 points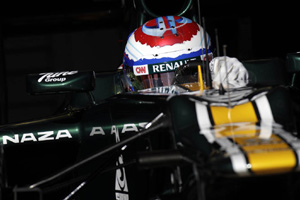 2012 marks the third year of F1 competition for the team founded in 2010 as Lotus. After two years of mire in the large gap between the tail-enders and midfield, the team look to have produced a car capable of running at least in the back end of the ultra-competitive midfield. One lap pace in the recent tests at Barcelona has been impressive, and the team appear quietly confident. 2012 should be the year that the green and yellow cars secure their first points, although an improvement over 10th in the constructors' championship may be less likely.
5. Ferrari wont be as bad as we all think
It's hard to imagine Ferrari producing a bad Formula One car. The last truly disappointing car produced in Maranello was the hideous 1996 machine in which Michael Schumacher performed miracles although some will argue that the 2009 car was almost as bad. Testing pace has been poor by their standards and the team have admitted as much, but Ferrari is Ferrari, and will once more win races. Perhaps not at the start of the season, but with Fernando Alonso at the wheel, anything is possible.